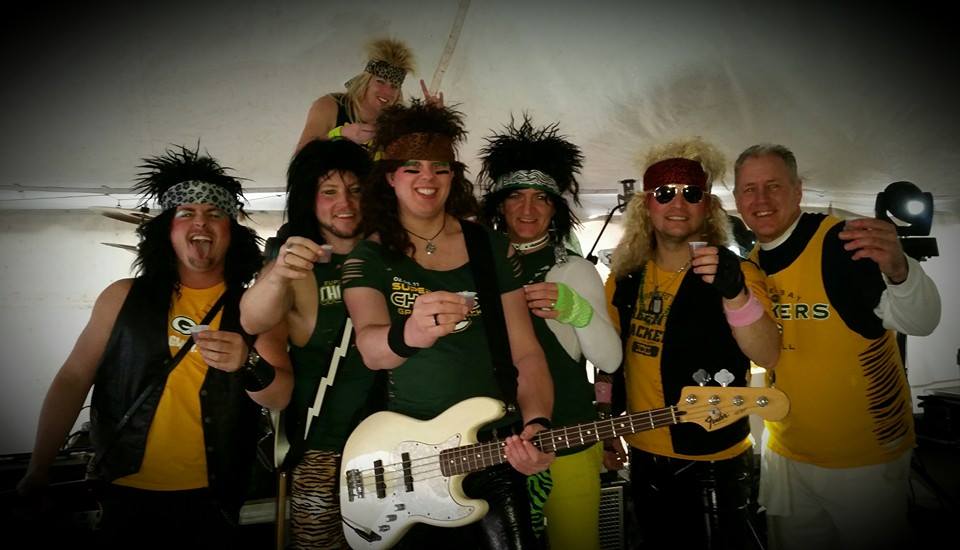 The Glam Band
A few friends sitting at a bar talking about how cool 80's rock was led to an inaugural show on a Tuesday night at Riders Saloon in Kimberly back in 2007.  The crowd reaction at that first event was unbelievably positive, and The Glam Band was born!  The band started out as a 5 piece ensemble, and later added a keyboardist in 2013. This 6 piece band is now in their 8th year of bringing a KILLER decadent 80s rock show to venues across Green Bay WI and The Fox Cities!
The band gets it name from the Glam Metal era of music, also known as Hair Metal or Pop Metal.  It is a subgenre of hard rock and heavy metal, and is most known for it's catchy hooks and guitar riffs.  This style can be traced back to acts like  Aerosmith, Alice Cooper, Cheap Trick, Kiss, The New York Dolls, and Van Halen.
Glam Metal arose in the late 1970s and early 1980s in the United States, particularly on the Los Angeles Sunset Strip music scene, pioneered by bands such as Motley Crue, Quiet Riot, Ratt, and Bon Jovi.  It was popular throughout the 1980s and the beginning of the 1990s, bringing to prominence bands including Poison, Cinderella, and Warrant.  Glam metal was notably associated with flashy clothing and makeup.  Many bands from this era featured long shaggy or backcombed hair, accessories, metal studs, leather and make-up during their live performances.
The passion and spirit that The Glam Band brings to the stage is unmatched in the world of cover bands.  Combining an all star performing group with the costuming, hair and makeup of the 80s Glam Metal era creates a multi sensory experience for those in the audience.  Anyone with an appreciation of 80's rock will love this group and their energetic interaction with the crowd.  The band only books about a dozen shows a year, and can often be seen playing before home Packer Games at The Bar on Holmgren, or on Wednesday nights during the summer at The Sardine Can.  They have developed quite a following of loyal head bangers over the years, while also entertaining numerous Glam Band "virgins" at every gig.
We don't play often so when you get a chance come out and see us!
 -Dennis Lee Roth, Skitch Rockett, JJ DeVille, Matt Savage, Dee Flatt, Randi Shenker